Vegan Pizza Near Me: 14 Chains That Do Delivery
They say there's no such thing as bad pizza. That's being very generous to some of the less-than-satisfying vegan pizzas we've tried before the dairy-free cheese revolution. Vegan pizza has significantly improved throughout the years, and it's also becoming far more common. It's not quite at the tipping point of vegan burgers (national chains are slow to adopt vegan cheese), but many regional and independent pizzerias have permanently added vegan cheese and plant-based meats to their menus. If you're not craving plant-based pizza now, you certainly will by the end of this article. Here's where to find the best vegan pizza for delivery.
Best vegan cheese for pizza
The right vegan cheese can convince us to take a second slice. But the truth is, not all of the delivery options offer vegan cheese. So sometimes, you still need to add your own—unless, of course, you want to enjoy pizza alla marinara, the Neapolitan pie that consists of a thin crust with a puffy base topped with tomato sauce, extra virgin olive oil, oregano, and garlic.
Three varieties work well on pizza: vegan parmesan, creamy nut-based cheese, and truly melty (not rubbery) cheese. The latter is the most difficult to master. There's a fine line between gooey, melty goodness and tacky, bland, and oily. Miyoko's Creamery and NUMU both make reliable vegan mozzarellas that stand up to the heat. Specifically, Miyoko's new pourable mozzarella works wonders for homemade pies whereas NUMU can be found in a variety of pizzerias in the greater New York region as well as at Whole Foods pizza stations nationwide. Many restaurants also carry either Daiya, Parmela Creamery, or Follow Your Heart cheese to obtain that stretchy element.
Creamy, spreadable cheeses such as nut-based mozzarella and ricotta are also excellent vegan pizza toppings. With just a handful of ingredients and a high-speed blender, you can easily make these nut cheeses at home. We also love it when a restaurant makes its own vegan cheese. It's typically of a rich, indulgent, nut-based variety, generously dolloped all over an artisan crust.
Don't forget the parm. Whether store-bought or homemade, a finishing of vegan parmesan adds an umami flavor to pull everything together. Make it in less than five minutes by blitzing cashews, nutritional yeast, and a pinch each of salt, black pepper, and garlic powder until you achieve a sand-like texture. Sometimes, all you need is a sprinkle of this cheesy pixie dust and you're set—no other cheese required.
Where to find vegan pizza delivery
These days, you can find vegan pizza just about anywhere you can find non-vegan pizza. It's available in regional chain restaurants, independent eateries, grocery store hot bars, and the freezer aisle. Even when a restaurant does not explicitly offer a plant-based pie on the menu, you can usually order one by holding the meat and cheese and amping up the vegetables. Most pizza dough is naturally vegan (with the exception of Papa John's, which for some reason contains milk), making it easy to build your own when dining out. Here are some of our favorite delivery options:
Blaze Pizza
1 Blaze Pizza
Out of the pizza chains that do delivery, Blaze Pizza is one of the most vegan-friendly. At this LeBron James-backed restaurant, the Original, House-Made Gluten-Free, and High-Rise crust options are all vegan. Then, you can top it with dairy-free cheese, plant-based chorizo, and all of the veggies.
Learn more here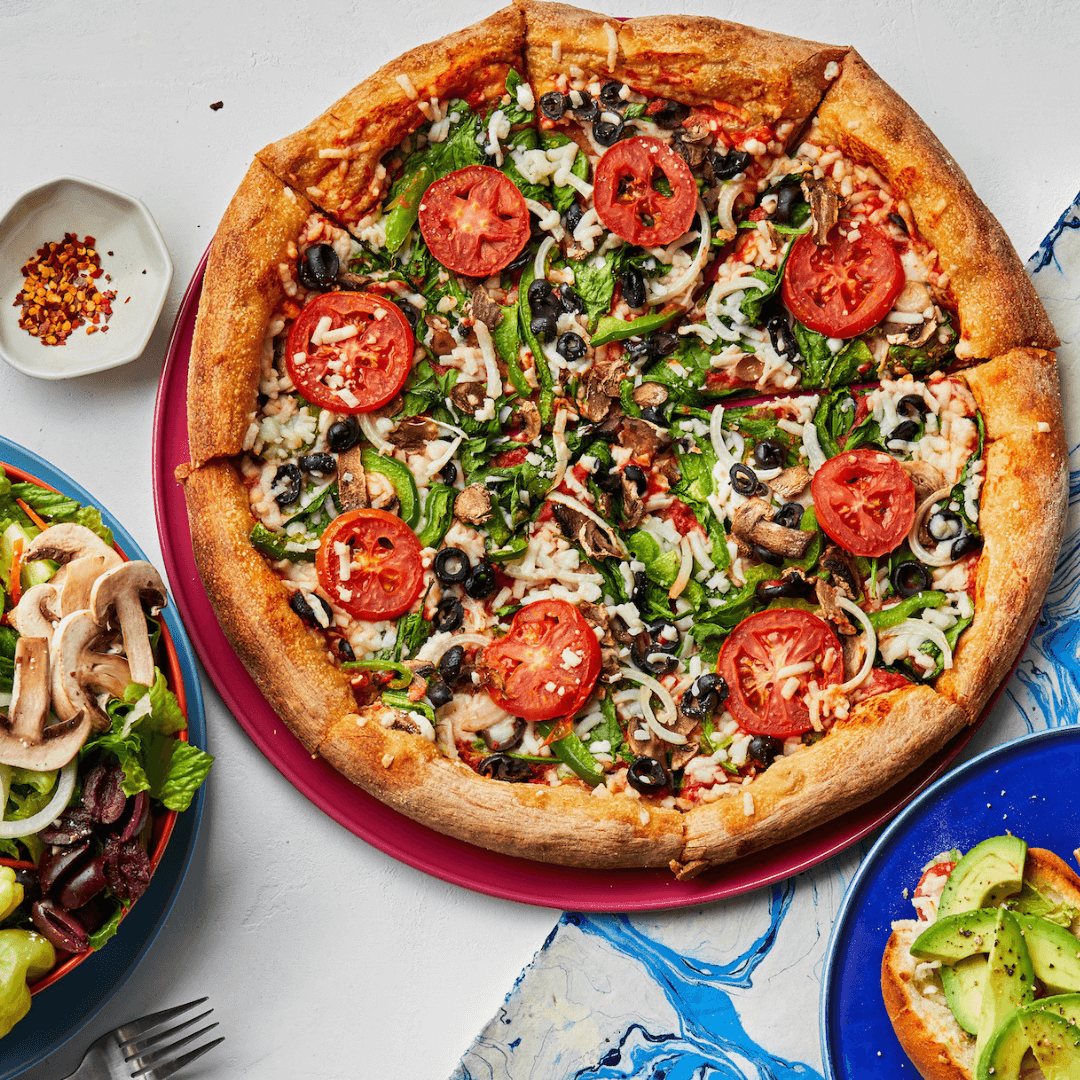 Mellow Mushroom
2 Mellow Mushroom
No meat, no dairy, and no honey is no problem at Mellow Mushroom. The Vegan Veg Out pizza features red sauce layered with Follow Your Heart cheese, plus spinach, green peppers, mushrooms, sweet onions, black olives, and Roma tomatoes. Plus, it comes in small, medium, and large sizes.
Learn more here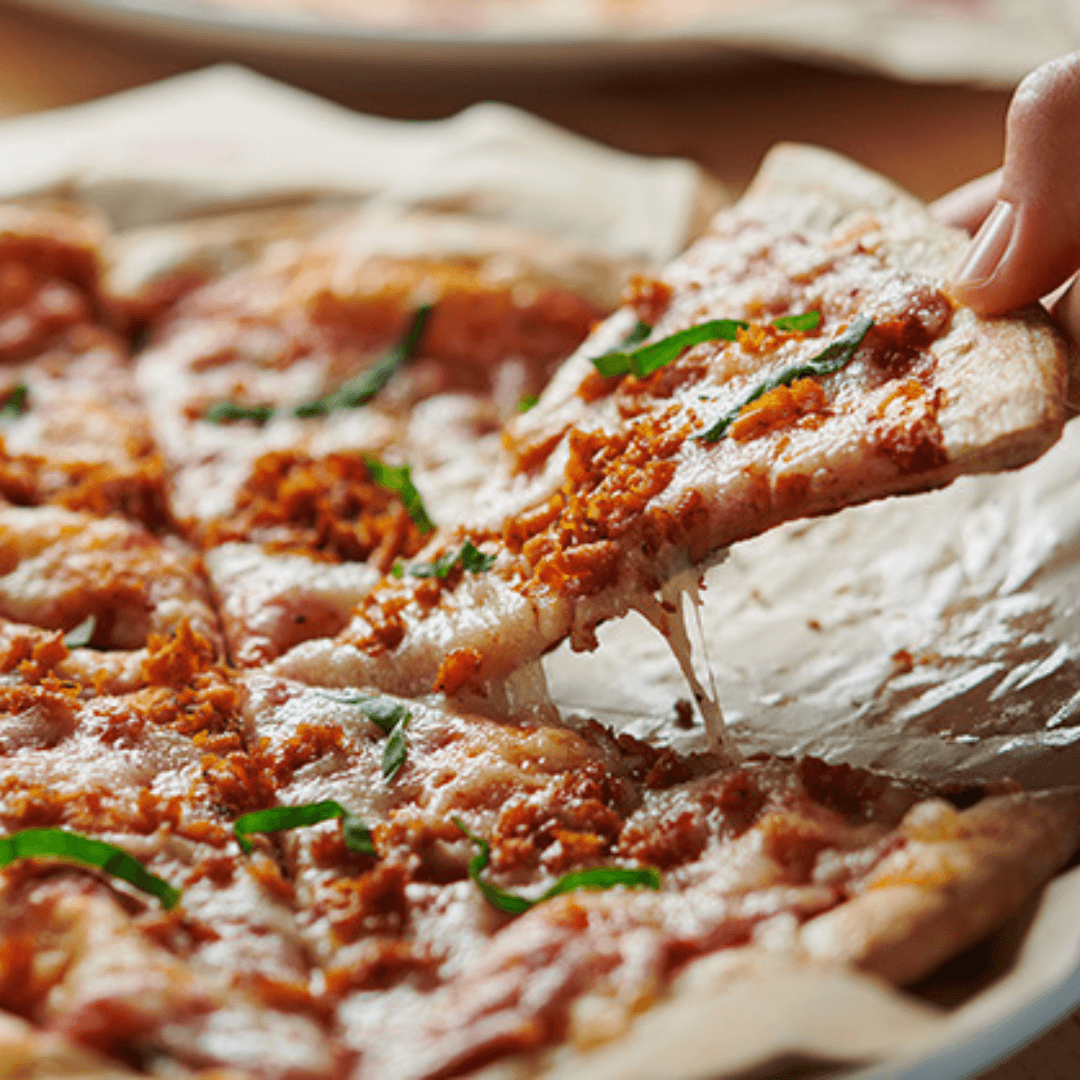 MOD Pizza
3 MOD Pizza
Vegan options are abundant at MOD Pizza. This chain has three vegetarian options that can be made vegan by swapping the dairy cheese for Daiya. The Lucy Sunshine comes with artichokes, garlic, and dollops of red sauce. The Dillon James has fresh basil, garlic, fresh tomatoes, and red sauce. And the Maddy is a classic cheese pizza with vegan mozzarella.
Learn more here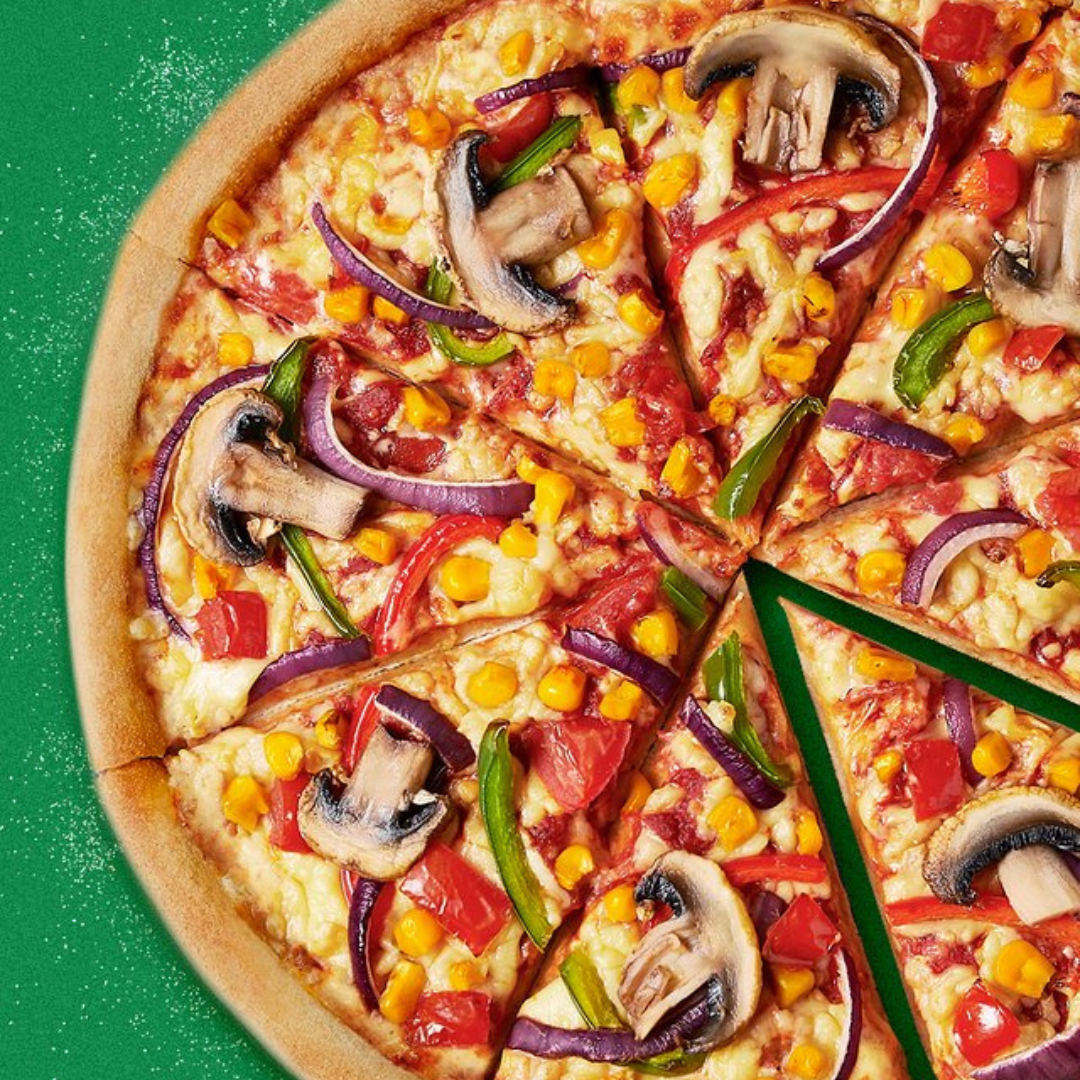 Domino's UK
4 Domino's
As one of the biggest pizza chains in the US, it's certainly one of the most accessible options. To order, choose the Thin Crust and then add the Robust Inspired Tomato Sauce. All of the vegetable toppings are vegan. And if you live in the UK, you're in luck—an array of vegan toppings like dairy-free cheese, soy-based chicken, and a plethora of fruits, veggies, and peppers are available for you to create the perfect pie.
Learn more here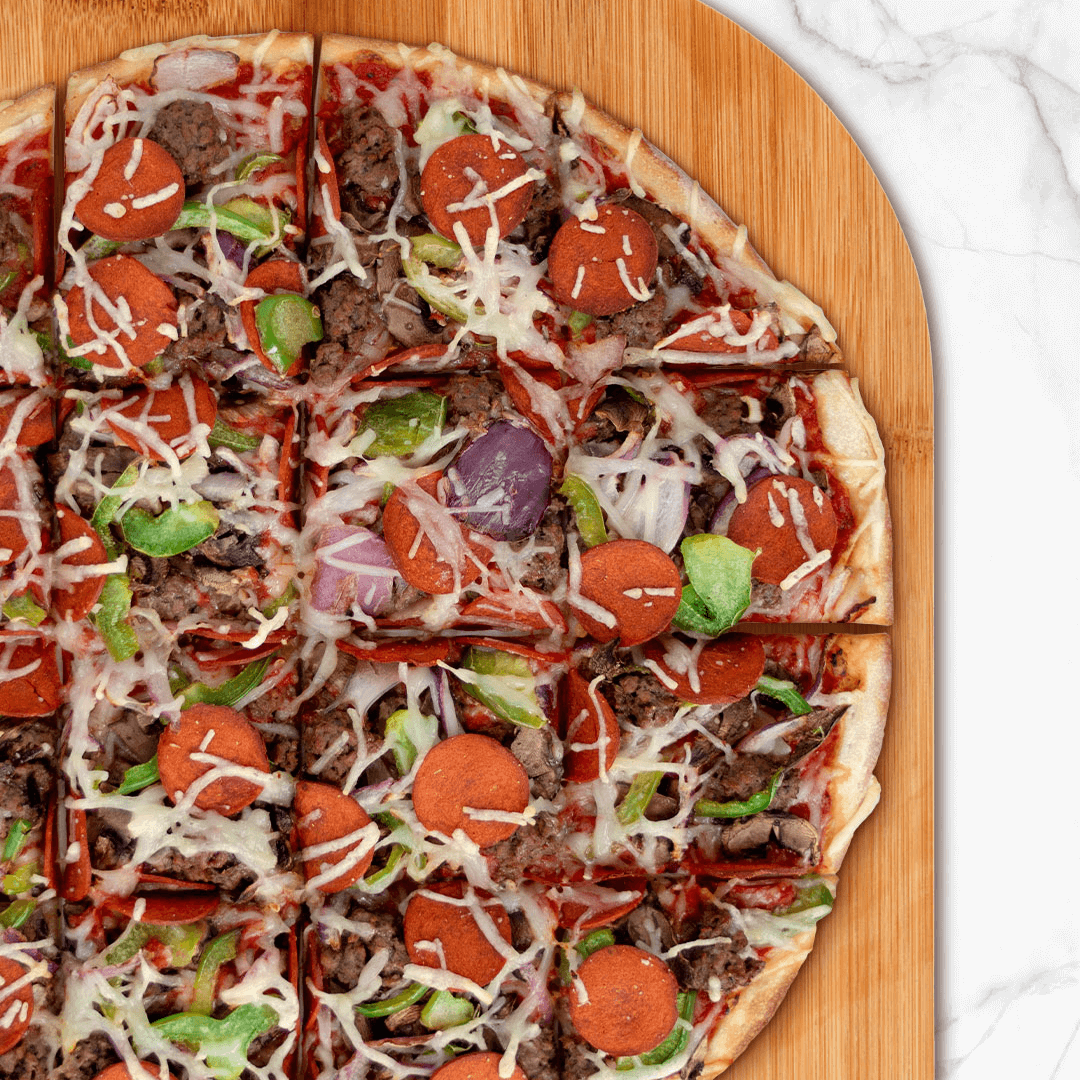 Fresh Brothers
5 Fresh Brothers
With plant-based cheese and meat toppings on the menu, Fresh Brothers is one of the most vegan-friendly chains out there. You can get a classic vegan pepperoni pizza or the Vegan Da Works pizza, which comes with Daiya mozzarella, pepperoni, Beyond Meat sausage, mushrooms, green peppers, and onion. You can even make your own custom pizza using the chain's plant-based options, which are clearly labeled on the menu.
Learn more here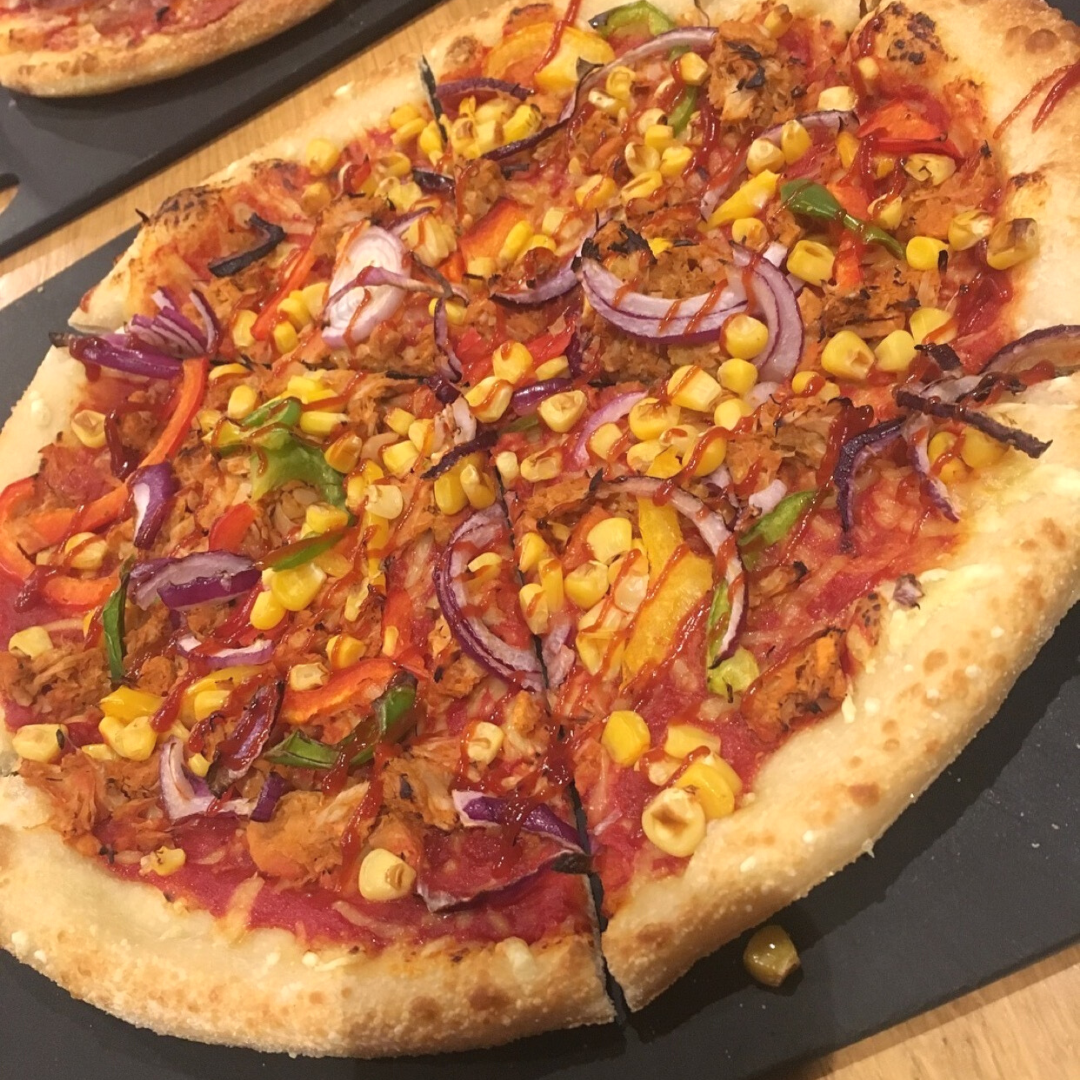 Pizza Hut UK
6 Pizza Hut
It's easy to order a delicious pie at Pizza Hut. The pillowy Original Pan, Thin 'N Crispy, and Hand Tossed crusts are free from animal-derived ingredients. Then choose the marinara or Buffalo sauce and any of the vegetable toppings. UK vegans, you're in luck—while this popular chain doesn't offer stateside vegan cheese, across the pond, plant-based cheese, chicken, and even pepperoni are available. For even more options in the US, check out our guide to ordering vegan at Pizza Hut.
Learn more here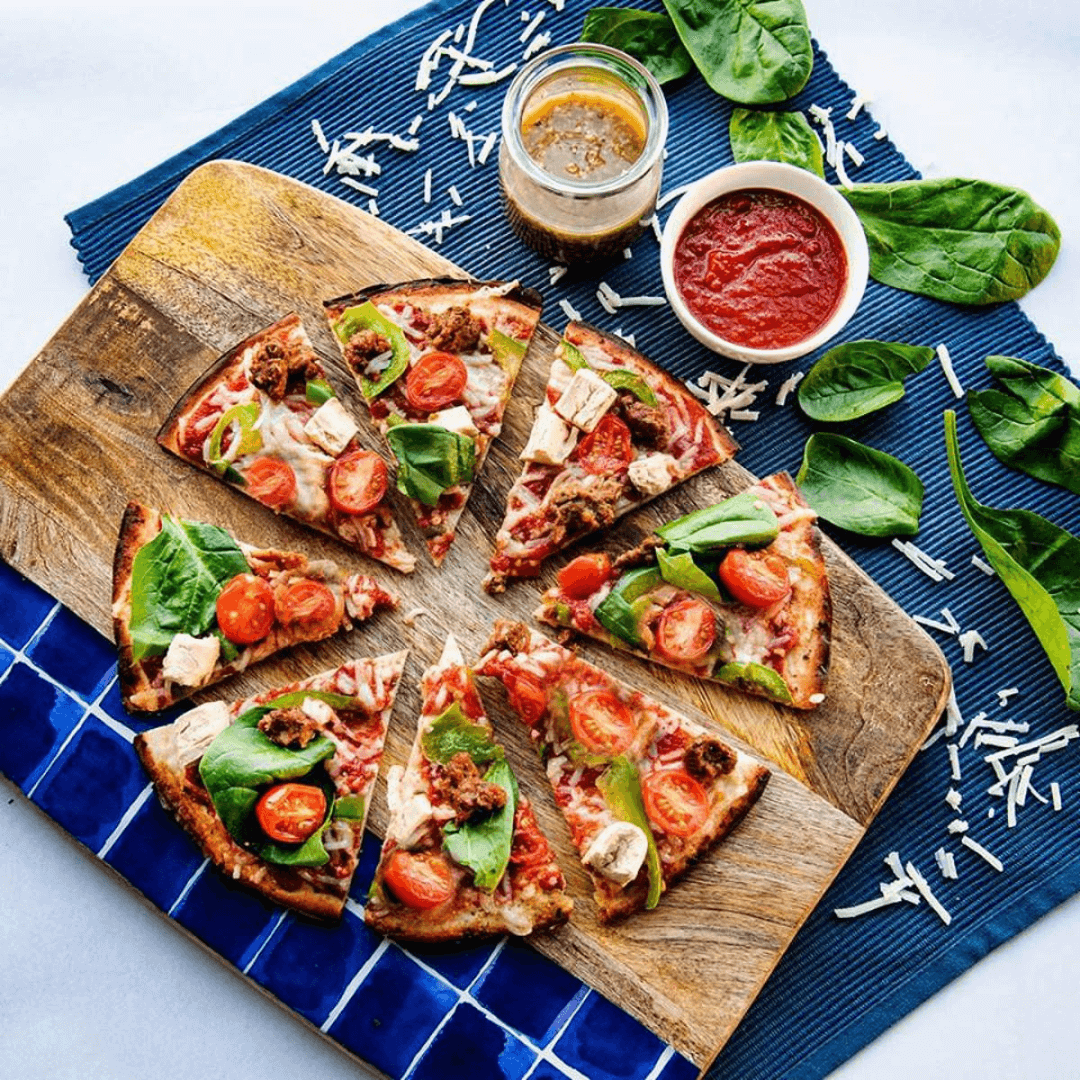 Pieology
7 Pieology
The only vegan crust option at Pieology is the thin and crispy gluten-free crust. But, what the chain lacks in bread is made up by the fact that it has dairy-free Daiya mozzarella cheese, plus plant-based meatballs and Italian sausage. All of the vegetables are vegan and for sauces, you have the choice of red, barbecue, or Buffalo. Top your pie with crushed red pepper and oregano in true New York pizzeria fashion.
Learn more here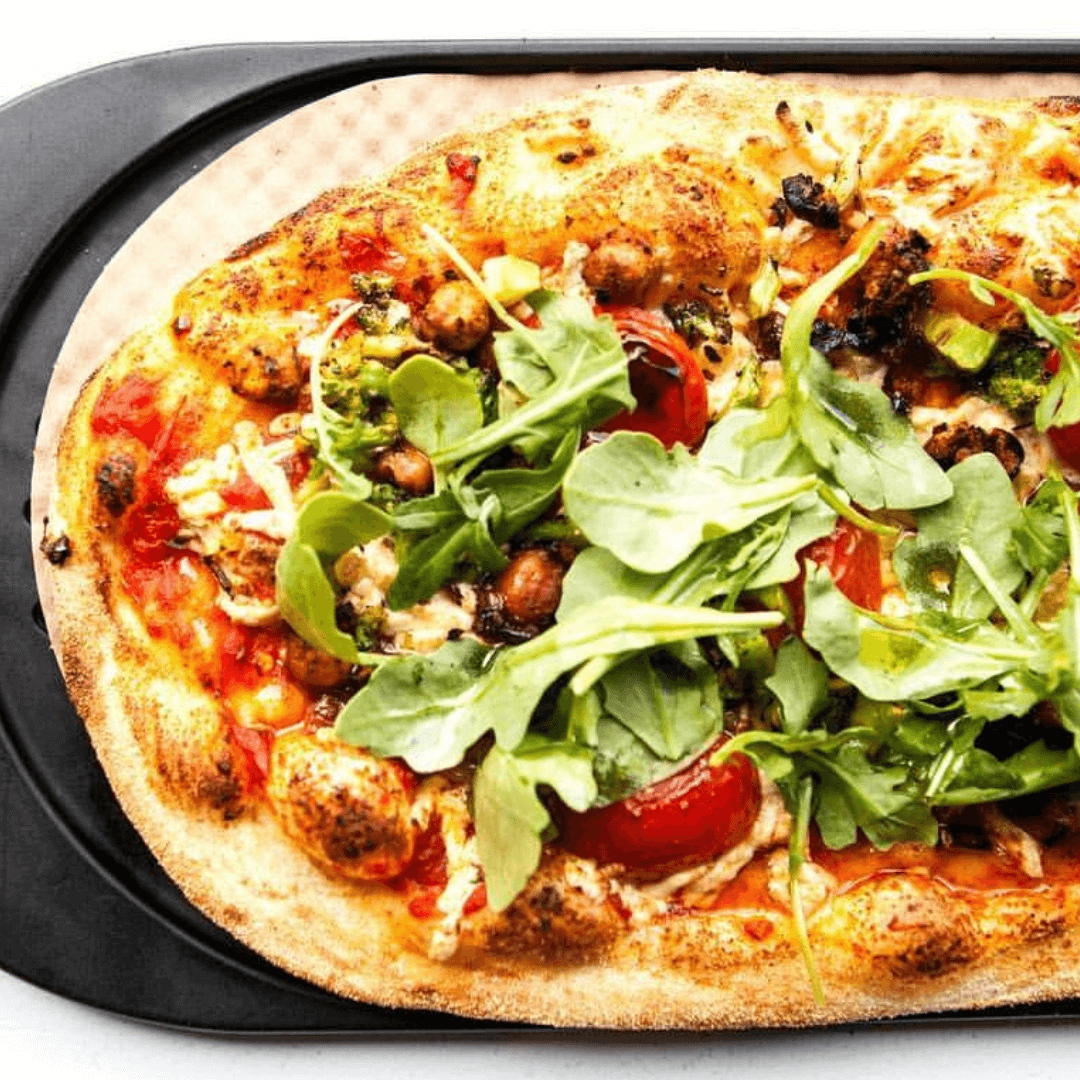 &Pizza
8 &Pizza
As a chain, &Pizza is on the smaller side, but you can find locations up and down the east coast. And what a vegan menu it has. The pizzeria offers traditional and gluten-free crusts, classic or spicy tomato sauce, dairy-free mozzarella, and spicy chickpeas or plant-based sausage for protein. Choose from all of the vegetables and then finish it off with garlic purée, fig balsamic, pickled red onions, banana peppers, and more.
Learn more here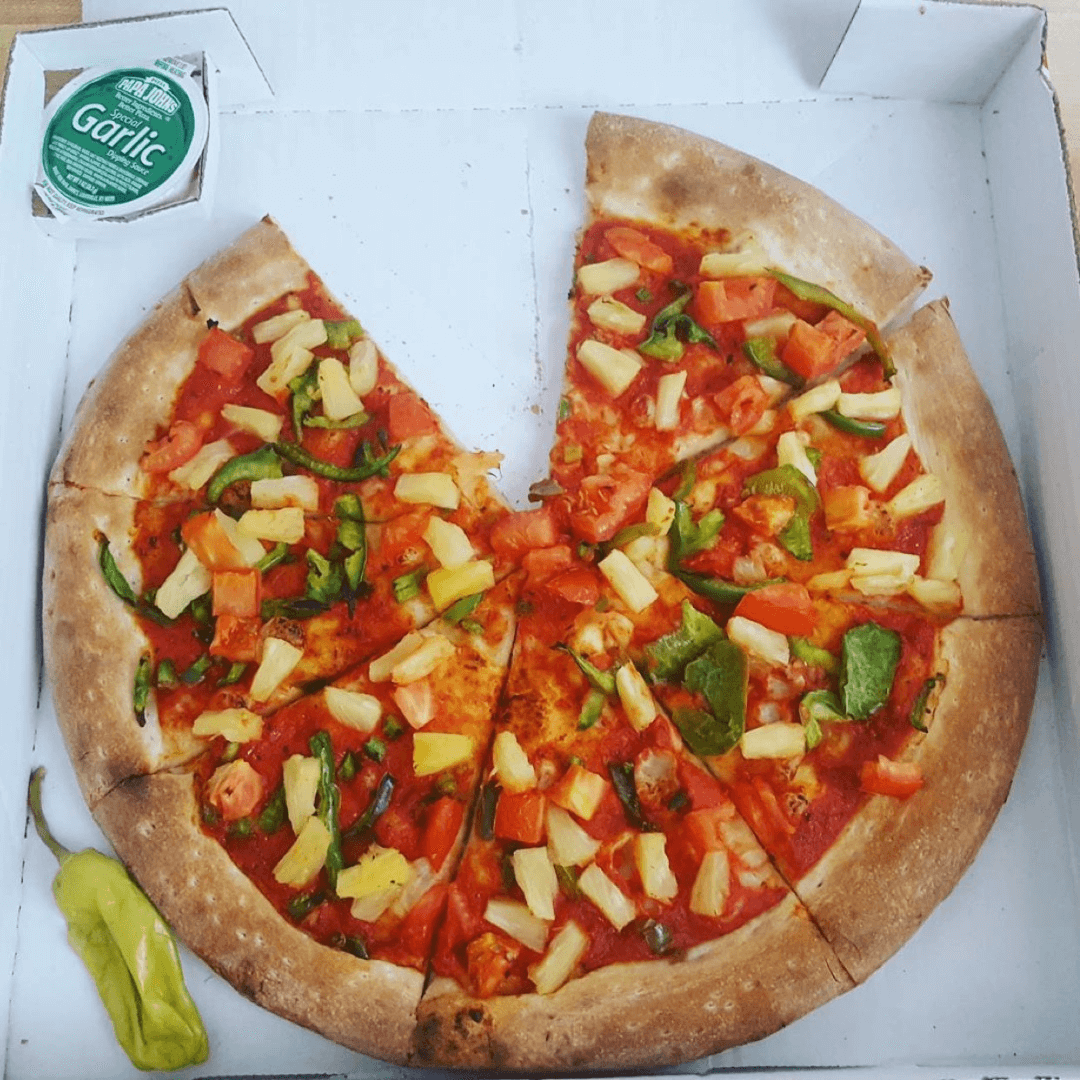 @a_rocking_vegan/Instagram
9 Papa John's
It's a sign of the times that a big chain like Papa John's has a page on its website dedicated to showing you how to order a vegan pie. The original hand-tossed dough is plant-based and for sauce, you have the choice between the original tomato sauce or barbecue—which would be lovely with pineapple and mushrooms. All of the vegetables are vegan. Unlike in the UK, there are no plant-based cheese or meat toppings.
Learn more here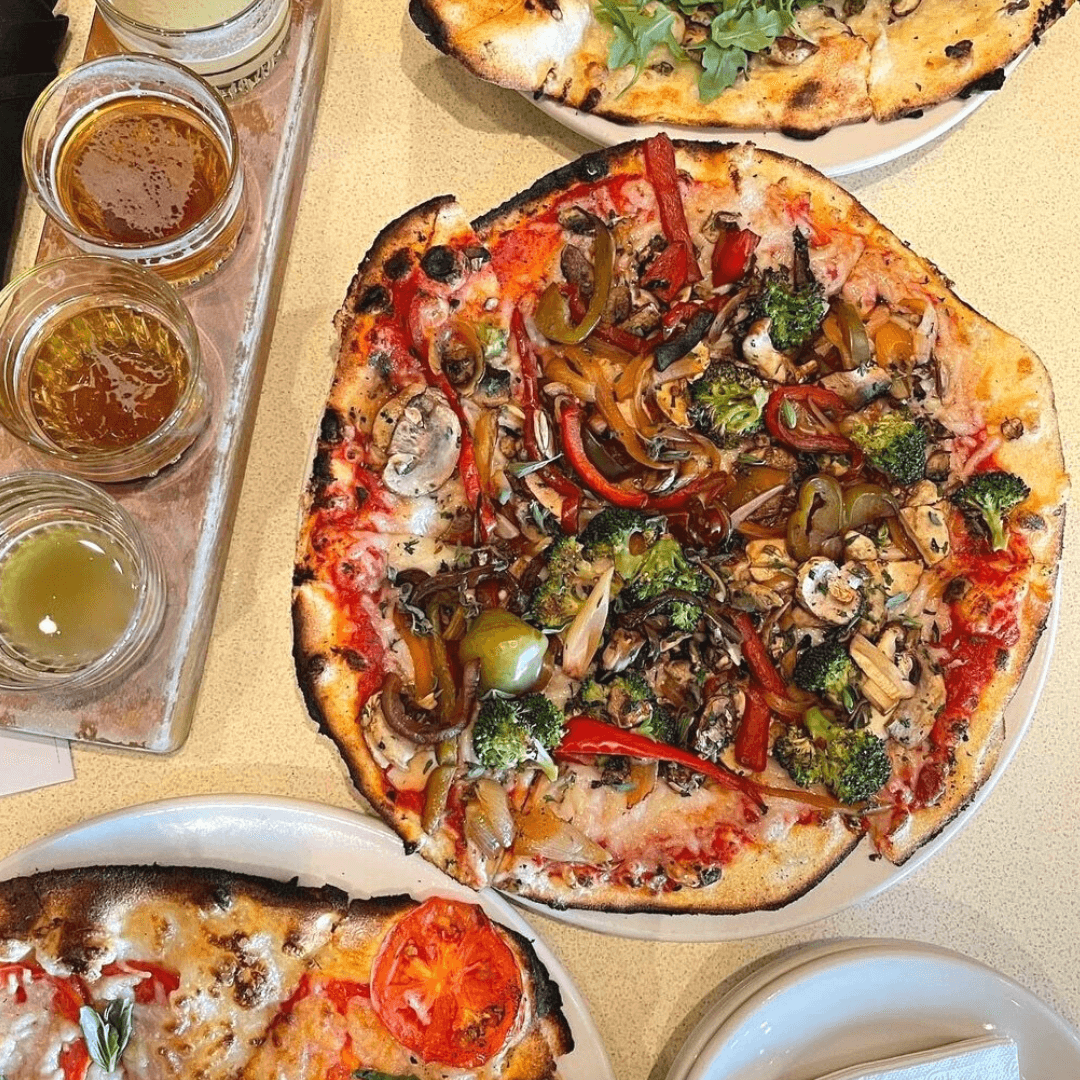 @vegan_gohan/Instagram
10 Brixx Wood Fired Pizza
While there are no dedicated vegan options on the menu, all you need to do is make a few customizations to a handful of offerings. These are the Greek Pizza, Wild Mushroom Pizza, Pear & Gorgonzola Pizza, and the Wood-Roasted Vegetable Pizza, which can be made vegan by removing the cheese and adding dairy-free cheese. As far as custom pizzas go, the traditional and whole wheat crusts are animal product-free.
Learn more here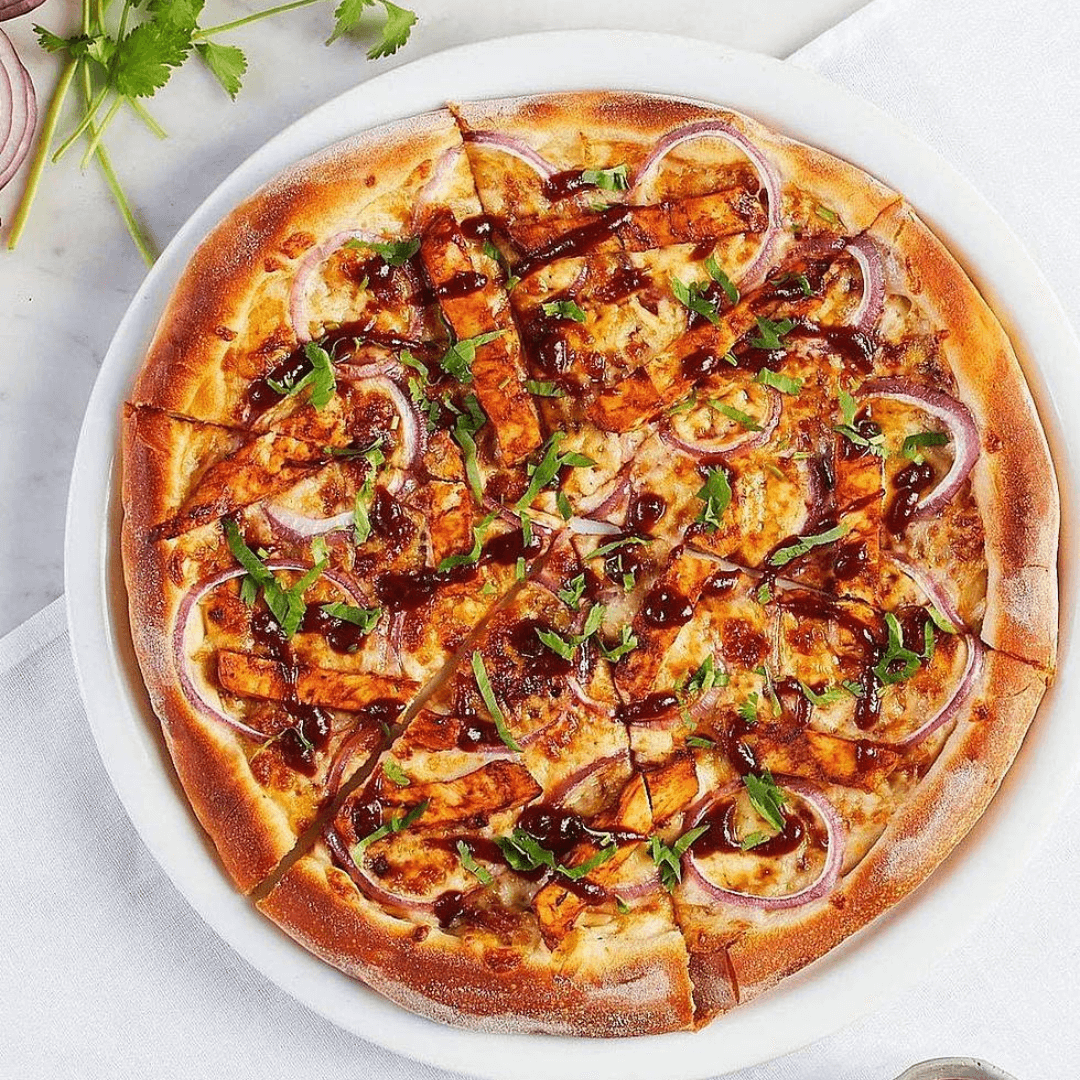 California Pizza Kitchen
11 California Pizza Kitchen
California Pizza Kitchen has got it good in spite of the lack of dairy-free cheese. Try the Plant Based BBQ Chicken Pizza, California Veggie Pizza, or the Wild Mushroom Pizza without cheese. Add the Mediterranean salad, without feta or mustard herb vinaigrette if you need something on the fresh side.
Learn more here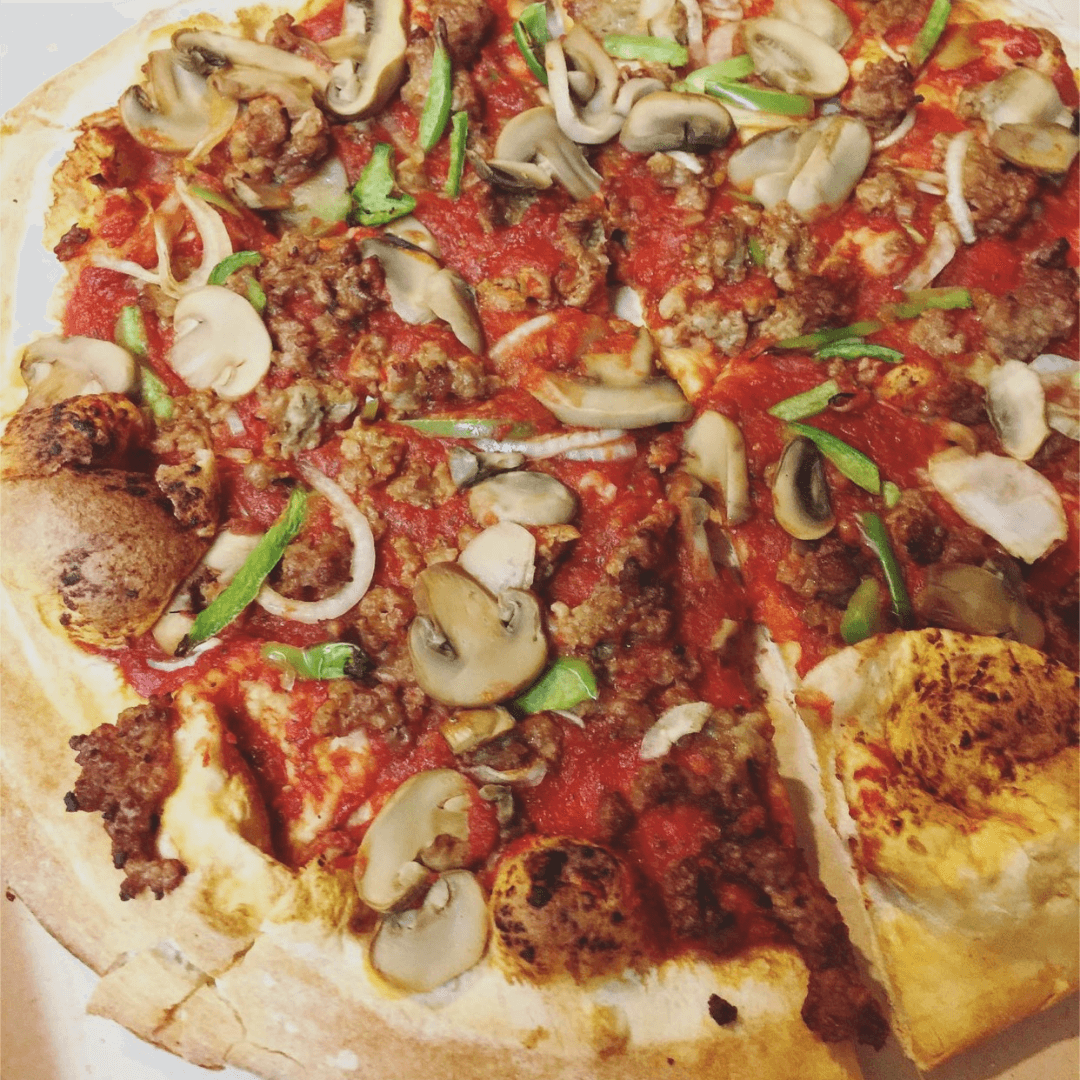 @deliteful/Instagram
12Little Caesars
This long-standing chain has a few vegan options. The Original Crust and the Thin & Crispy Crust are free from animal ingredients, as is the marinara-style Original Pizza Sauce. As for toppings, load up on any of the vegetables, mushrooms, and pineapple. Unfortunately, the vegan pepperoni that the chain launched in the summer of 2021 has been discontinued.
Learn more here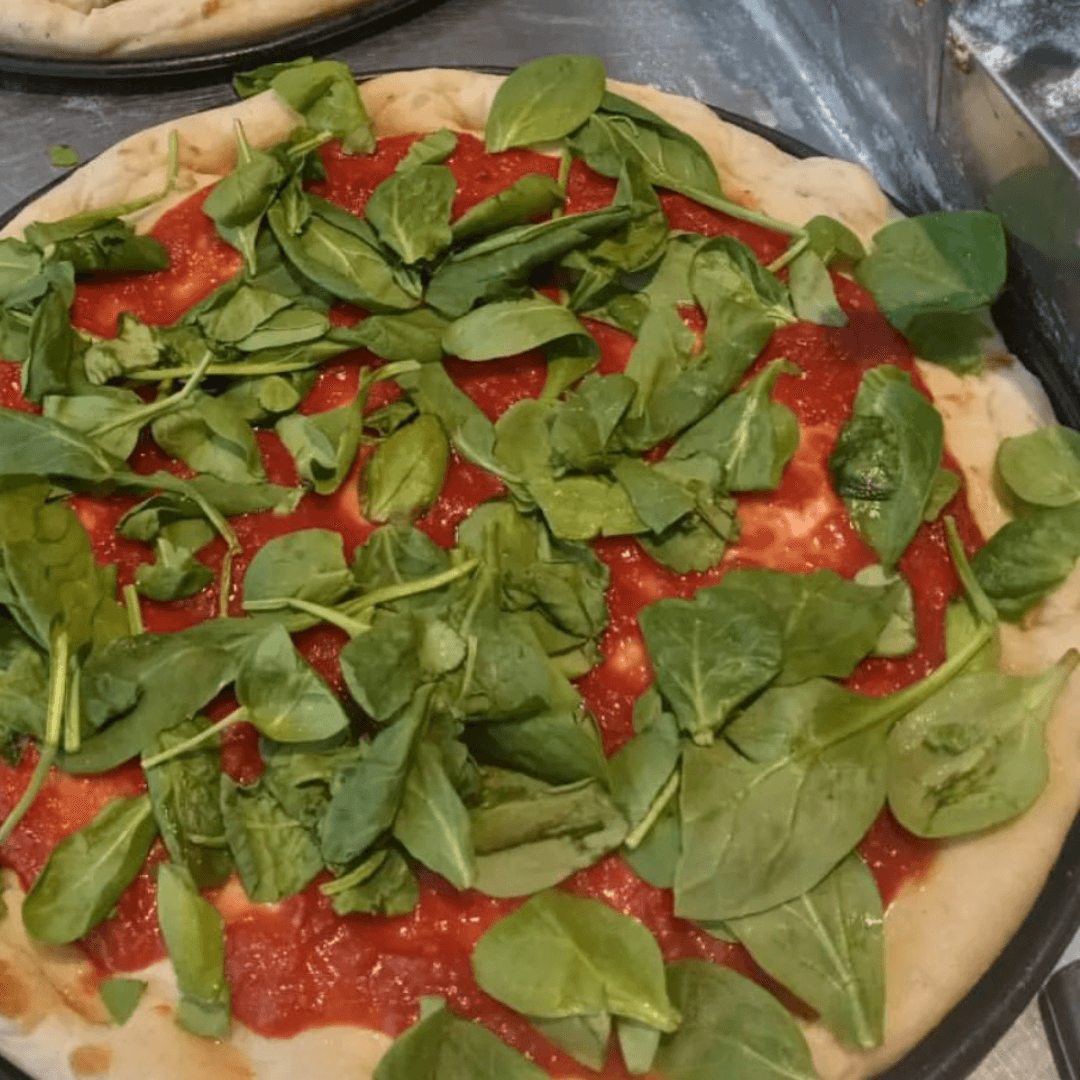 @iamhitsquaddeejay/Instragram
13 Sbarro
This New York pizza-inspired chain that's a staple of malls across the country doesn't have much in the way of plant-based options, but you can order a plain one without cheese and top it off with vegetables.
Learn more here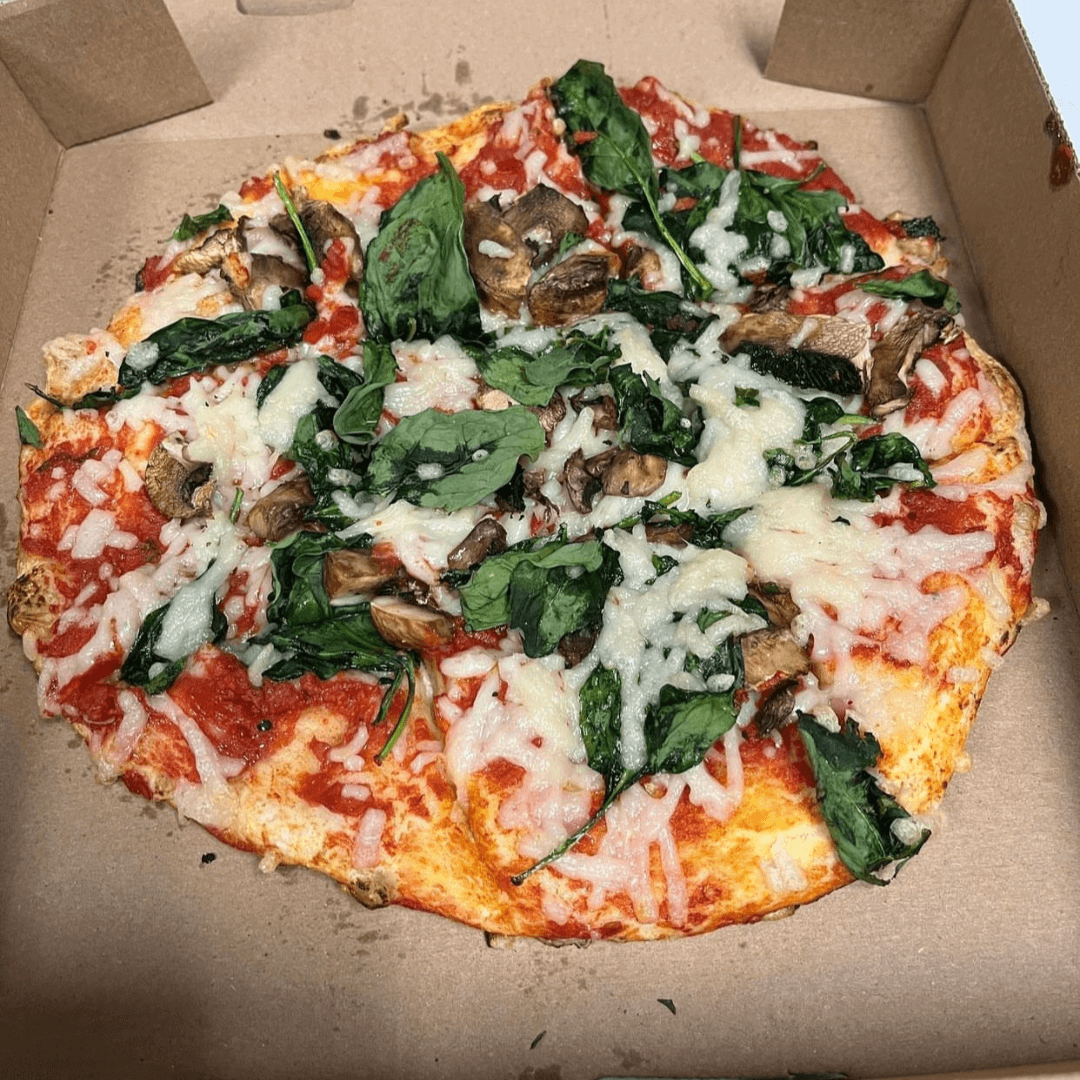 @plantbasedbloggerlifestyle/Instagram
14 Uno Pizzeria & Grill
Best known for serving Chicago-style deep dish pizza, Uno Pizzeria & Grill has a page dedicated to vegan options on its website. You can choose from the Vegan Garden Pizza, which features a hand-stretched, thin crust (sorry, there's no deep dish option), tomato sauce, spinach, roasted vegetables, mushrooms, and cherry tomatoes.
Learn more here
For more on vegan delivery options, read:
The VegNews Guide to Vegan Meal Delivery Kit Subscriptions
8 Excellent Vegan Cakes That You Can Get Delivered
These Companies Will Ship Vegan Grocery Staples Directly to Your Door
JUST LAUNCHED!
Vote in the 2022 Best Vegan Ice Cream in America Awards.
VOTE HERE
JUST LAUNCHED!
Vote in the 2022 Best Vegan Ice Cream in America Awards.
VOTE HERE