DJ Trae, all tuned up and ready to get things started | Local News
When DJ Trae shows up, he gets the party started.
By day, he's a disc jockey at radio station 103.9 in Brooksville, the on-air personality weekdays from noon to 3.
After hours, he's a much sought-after DJ around Citrus County and beyond, bringing his high-energy personality to local events, from Kids Night every Wednesday at Crump's Landing in Homosassa and Teen Night Out on the third Thursdays at the Inverness Depot, to the monthly Crystal Harley-Davidson Bike Night at the Florida Cracker Monkey Bar or an Inverness Elks Italian Night Supper, United Way Boots & Bling, Disco Night to benefit Cayla's Coats or a Stuff the Bus / Fill the Trailer event.
"It doesn't matter if there's 20 people or 2,000, if they're 5 or 50 years old, I just enjoy making people smile," Trae said.
He was born George Ervin Vance III, but everyone calls him Trae.
"I was raised in a small town, Tutwiler, Mississippi, the Mississippi Delta," he said. "I grew up on a cotton farm and worked from the time I could walk.
"I got the 'music bug' from my mom. I was 2 or 3, and when she cleaned the house she'd listen to music, "he said. "She loved Chicago, Southern rock and country music. I also listened with my dad, riding in his truck, listening to Alabama and John Conley. "
His uncle Johnny, John Jennings Jr., had a band, Curb Service.
"He still has the band," Trae said. "He plays rhythm guitar and vocals, and I would go and watch his band and be fascinated with the equipment and lighting and that they had a trailer and they'd put all this equipment in the trailer and go to all these gigs.
"I loved the theatrical part, the white trailer with a picture on the side of a girl on roller skates holding a tray – curbside service." he said. My aunt and some of the other wives would sing with them; they were called 'Curbettes.'
"I loved how they'd go from an empty stage and fill it and then entertain everybody. I owe my Uncle Johnny a debt of gratitude because watching him, I knew that's what I wanted to do.
"I'd go with him and help set up and do different things," Trae said. "My uncle got me hooked up with my first DJ gig."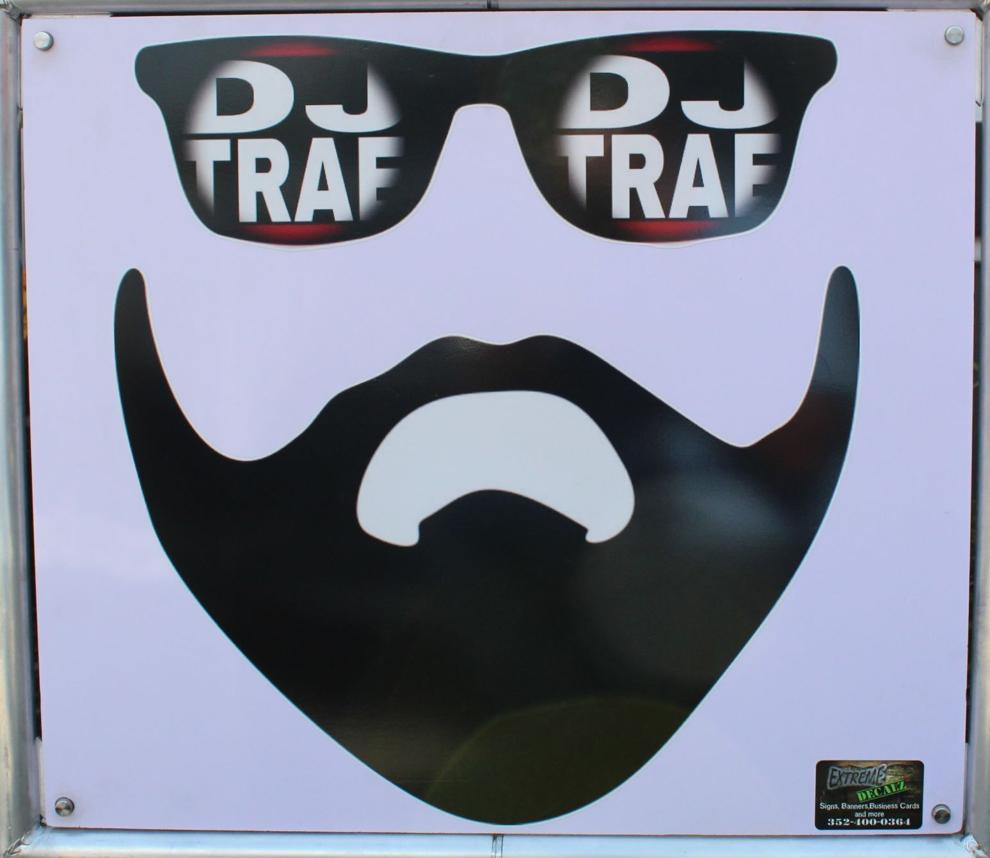 It was a back to school party in Greenwood, Mississippi, and paid $ 100.
Trae's father, Butch Vance, who now lives in Inverness, got Trae a bed cover for his truck so he could haul his equipment. Then later, another uncle, Phil Jennings, bought Trae his first trailer.
"It was this little 5-by-8-foot trailer, and I thought I'd hit the big time," Trae said, "and also that I'd never have enough equipment to fill it."
Now he fills an 18-foot trailer and travels to gigs around the region and around the state.
Mississippi boy comes to Florida
Prior to moving to Citrus County, Trae, now 46, worked for Miro's Music Shoppe, tinting windows and installing stereos.
One of his jobs was for the actor Morgan Freeman at his nightclub, Ground Zero Blues Club in Clarksdale, Mississippi, doing lighting and sound.
"I was 29 when I came here, with a new baby and a new wife, who's now my ex-wife," he said.
He's now married to Emily, whom he met in 2013 while DJing at a country bar north of Crystal River.
"She came in for wings and a drink, our eyes met and my heart skipped a beat – better my heart (skipping) than the music," he said, laughing.
They married in 2015.
"When I first came to Citrus County, my dad, who used to be a crop duster, had started a landscaping business and I came to do that with him," Trae said.
After landscaping for a while, Trae worked a few other jobs, including tinting windows at CTA Audio Accessories.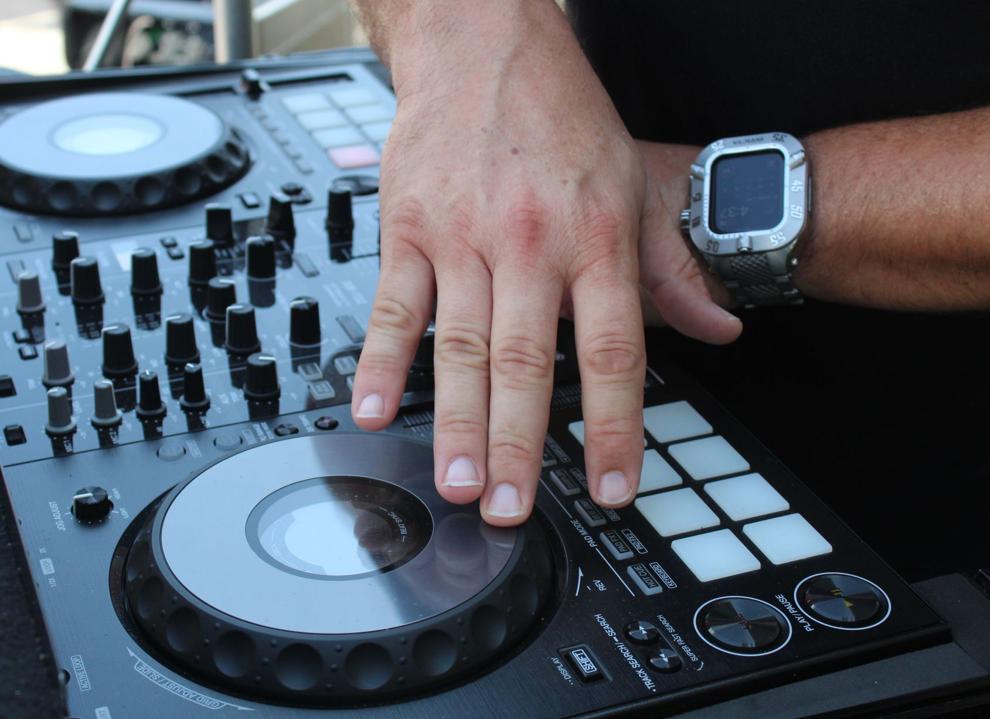 "I didn't know anybody when I first moved here so I started hanging out at CTA Audio and the owner, Tim Cyr, became one of my first friends here," he said.
In 2013 Trae went to work at Citrus 95 radio station and also did voice over work / commercials for the Fox News 99.9 talk radio station.
"Around the start of the pandemic, I got away from radio for about a year, worked at Digital Hound Media and sold cars for a year or so at Crystal Chrysler Dodge Jeep Ram. I did pretty good at that, but I was way out of my element, "he said.
He started at the Brooksville radio station in 2021, working for Steve and Barbara Manuel, the former owners of Citrus 95.
Prior to that in 2007, a year after he moved to Citrus County, Trae had started building his DJ business, with his first local gig doing a wedding at Rainbow Springs Park in Dunnellon.
Always learning
As he talked about his career, about the big names he's met – Garth Brooks and Charlie Daniels just to name two – Trae said he always comes back to the lessons he's learned along the way.
He said some of his best lessons have come from his mistakes.
"About 23 years ago when I had been DJing for a few years, I was hired to do an employee Christmas party at the Isle of Capri Casino in Coahoma, Mississippi, and I didn't really know what I was doing," he said .
He booked the job without getting the details of the size of the room, thinking that it would be in a small conference room. Instead, he showed up with two small speakers that he had bought at a pawn shop only to learn he would be in the main ballroom.
"I knew I was in trouble and was almost in tears," he said. "Some guy who worked there saw me and saw that it wasn't going to work and let me plug into their sound system.
"I learned a very valuable lesson from that," he said. "If you're going to book something, you need a game plan."
Now his guiding principle is: It's better to have too much equipment than not enough.
Another guiding principle: Play to the audience you have, not the one you don't have.
If you have 20 people, those people deserve your best.
"I've found I have just as much fun with a small crowd as I do with a huge one," he said. "And I especially love to be able to get to know the people who see me regularly."
"DJ Trae is certainly becoming a regular fixture at Teen's Night Out," said Renea Teaster, executive director of the Anti-Drug Coalition, one of the sponsoring agencies of the monthly teen event. "He provides more than just music, but an atmosphere that teens feel comfortable in. He has developed a rapport with the students, including a few special needs youth that attend each month.
"It's great that he makes everyone feel included," she said.
Trae said one of the drawbacks of doing what he does is being a guest at an event and not being able to not critique the DJ.
"I can't go to a wedding without taking notes," he said, laughing. "I'm looking at the DJ's equipment and watching what they do that I like or don't like and how I could change what I do.
The way I see it, if you stop listening, you stop learning, and I'm always wanting to keep learning, "he said.
Here's what he has learned: When all else fails, play "Electric Slide" or "Copperhead Road."
"It doesn't matter where you are or who's at the event," he said with his big old DJ Trae grin, "You play 'Copperhead Road' and I guarantee before you know it, everybody's on their feet and on the dance floor . "
.