Dinner and a Show: Where to Eat Near Theaters and Entertainment Venues
The Twin Cities are alive with art and music. If you feel like going to a show in the theater districts of Minneapolis or St. Paul, choose a spot to grab a bite before the show or plan to get dinner and drinks afterward. Here are some eateries to choose from near many popular venues. We recommend you make a reservation and check hours before heading to your next play, concert, comedian, or show.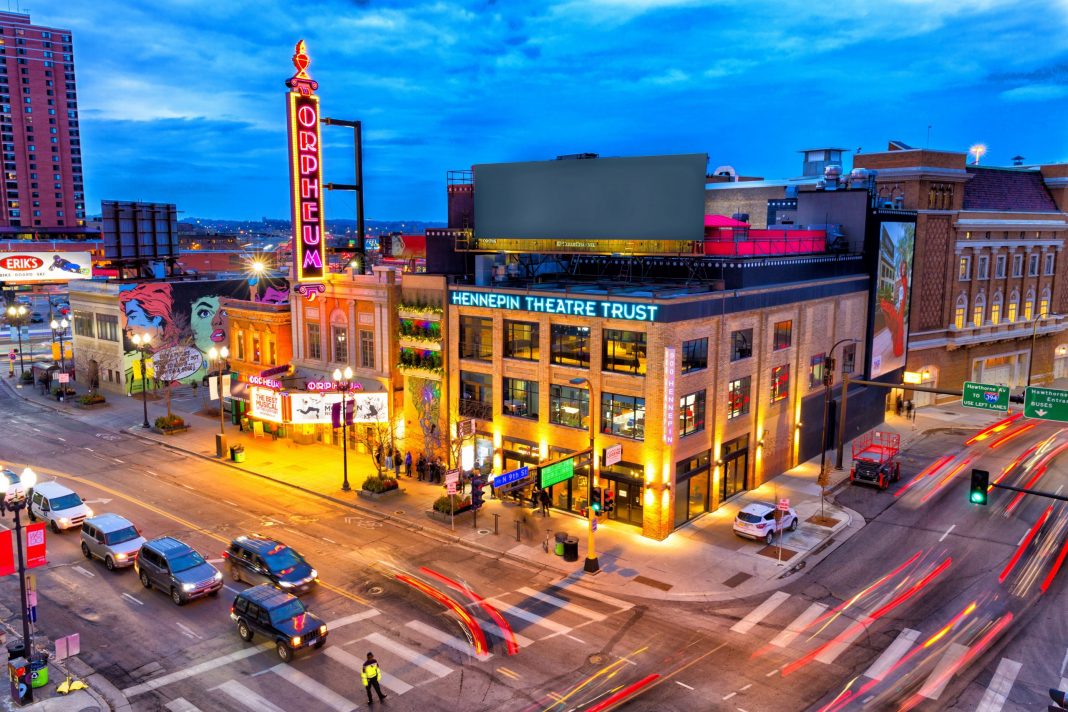 Orpheum Theater
910 Hennepin Ave., Minneapolis
Murray's
26 S. Sixth St., Minneapolis
A classic steakhouse and restaurant in one of the oldest buildings in the city, Murray's boasts a menu of soups, salads, sandwiches, a la carte sides, signature steaks, drinks, and dessert.
Fhima's
40 S. Seventh St., Minneapolis
Using locally farmed ingredients, this fine dining restaurant presents a modern take on French Mediterranean cuisine. Choose from steak tartare, salmon and chickpeas, lamb couscous, and more.
MacKenzie Pub
918 Hennepin Ave., Minneapolis
Known as an "American bar with a Scotch flavor," MacKenzie Pub offers a selection of drinks on draft, burgers, street tacos, smoked wings, and more.
State Theater
805 Hennepin Ave., Minneapolis
Crave American Kitchen and Sushi Bar
825 Hennepin Ave., Minneapolis
With menus for lunch, dinner, and happy hour, Crave offers poke bowls, chicken dishes, pasta dishes, steak, and specialty sushi rolls as part of an expansive menu.
Union Rooftop
731 Hennepin Ave., Minneapolis
With the only year-round retractable glass enclosure in the state, this rooftop kitchen, bar, and grill offers brunch with frittatas and chimichangas, lunch with burgers and salads, and late-night dinner with truffle fries and steak.
The Capital Grille
801 Hennepin Ave., Minneapolis
This fine-dining steakhouse boasts nationally renowned dry-aged steaks, fresh seafood, and acclaimed wines in the heart of the Hennepin Avenue Theater District.
Rock Bottom Restaurant and Brewery
825 Hennepin Ave., Minneapolis
One of 17 locations across the states, Rock Bottom is described as a welcoming neighborhood bar and craft brewery that offers "elevated eats."
Pantages Theater
710 Hennepin Ave., Minneapolis
The Oceanaire Seafood Room
50 S. Sixth St., Minneapolis
This seafood restaurant was established in 1998 and features fresh seasonal and sustainable seafood. Select from menus for dinner and specialty cocktails and wines.
Wood + Paddle Eatery
31 S. Seventh St., Minneapolis
Hungry for Minnesotan cuisine? Check out this eatery, which specializes in imaginative northern flavors and wood-fired dishes, including bison burgers and steak.
Fogo de Chao
645 Hennepin Ave. S., Minneapolis
This Brazilian steakhouse uses the grilling tradition of churrasco in a casual dining atmosphere and offers tastes of Southern Brazil.
Seven Steakhouse Sushi & Rooftop
700 Hennepin Ave. S., Minneapolis
A true steak and seafood establishment, diners here can select from steaks, salads, and creative sushi made with fresh ingredients.
Guthrie Theater

818 S. Second St., Minneapolis
Bushel and Peck
704 S. Second St., Minneapolis
This cafe, located inside the Mill City Museum, combines homegrown grains with ingredients from local farms. The cafe offers grab-and-go options as well as hot foods.
Farmers Kitchen + Bar
750 S. Second St., Minneapolis
Owned and operated by local Minnesota farmers, this kitchen and bar presents a selection of fresh ingredients for breakfast, lunch, or dinner, with locally inspired cocktails. Plus, check out the coffee bar and homemade bakery items.
Kindee Thai Restaurant
719 S. Second St., Minneapolis
Right across the street from the Guthrie, Kindee puts a modern flair on traditional Thai cuisine with a menu that includes unique appetizers, hot soups, and specialty entrees.

Zen Box Izayaka
602 S. Washington Ave., Minneapolis
After the show, visit this restaurant for ramen and comfort Japanese food, just two blocks from the Guthrie. Zen Box is open for dine-in reservations, takeout, and delivery.
Riverview Theater
3800 42nd Ave. S., Minneapolis
Sea Salt Eatery
4801 Minnehaha Ave. S., Minneapolis
This seafood eatery offers specialty appetizers, tacos, baskets, sandwiches, salads, and raw oysters, located five minutes from Riverview.
Blue Door Pub Longfellow
3448 42nd Ave. S., Minneapolis
With the specialty "blucy," a spin on the classic Juicy Lucy, the Blue Door Pub offers dine-in, takeout, and delivery options. Its menu also includes wings, totchos, burgers, and more.
Northbound Smokehouse and BrewPub
2716 E. 38th St., Minneapolis
An award-winning neighborhood brewpub, Northbound provides what they call an "upscale blue collar" food concept. Order the "best wings in the Twin Cities," or choose from other entrees.
Matt's Bar
3500 Cedar Ave., Minneapolis
What began as a neighborhood burger eatery is now the home of what may have been the original Juicy Lucy. Come for the famous, fresh-from-the-grill burgers after a show at the Riverview.
The Hook and Ladder Theater & Lounge
3010 Minnehaha Ave., Minneapolis
Hi-Lo Diner
4020 E. Lake St., Minneapolis
Before the show, stop in at this diner for a sandwich, burger, or a specialty hi-top (a savory meal atop a house-made doughnut). It's located one mile away from the Hook and Ladder.
Himalayan Restaurant
2910 E. Lake St., Minneapolis
This restaurant aims to bring authentic Nepalese, Indian, and Tibetan flavors to Minneapolis. Choose from options for samosas, chicken chili, biryani, and more.
The Howe Daily Kitchen + Bar
3675 Minnehaha Ave. S, Minneapolis
A full restaurant and bar with crafted cocktails and 40 beers on tap, this restaurant also has a dog-friendly patio and dog menu.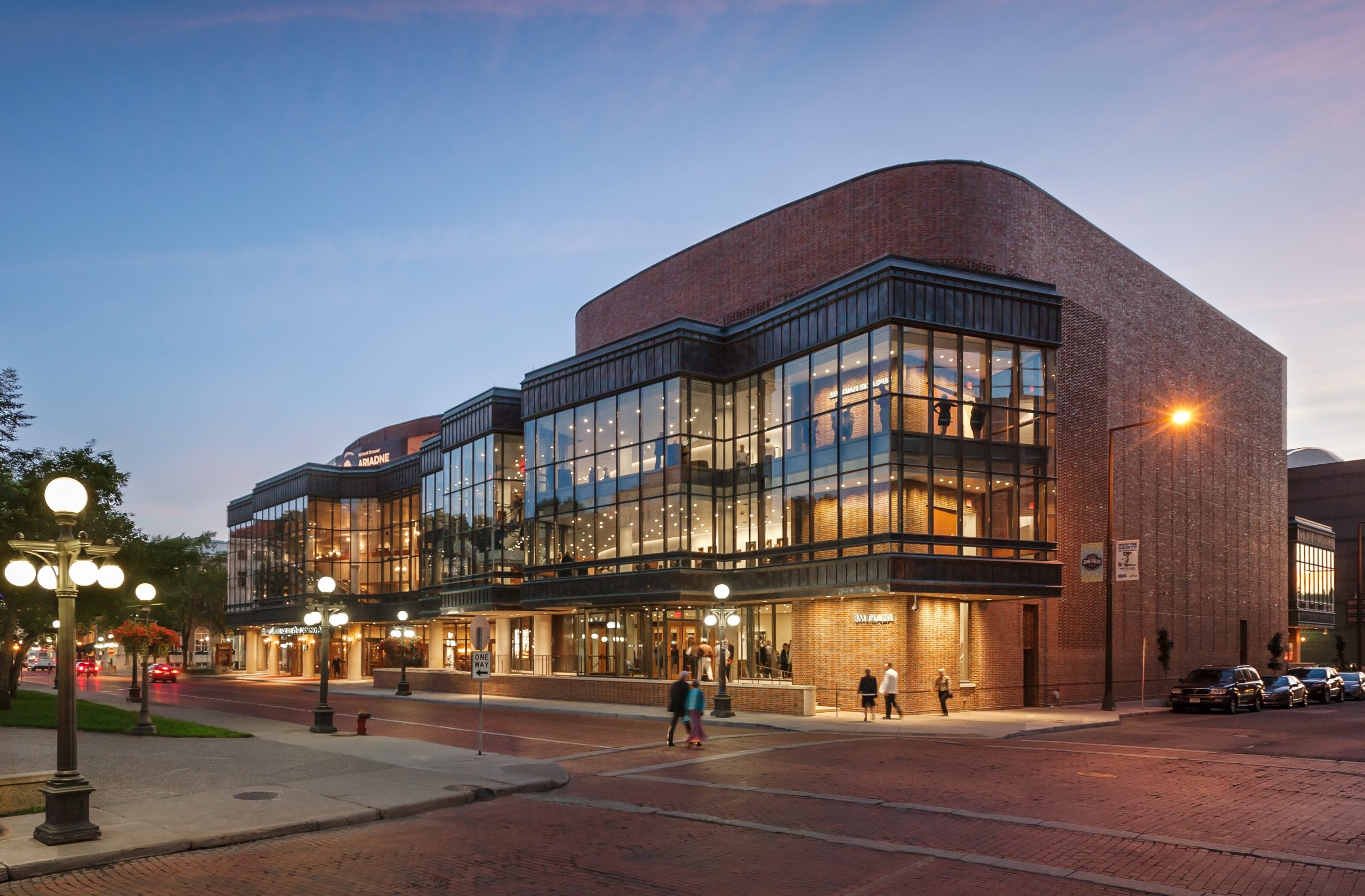 Ordway Center
345 Washington St., St. Paul
Momento
360 St. Peter St., St. Paul
Boasting New American fare, this restaurant and bar in the former Pazzaluna restaurant serves margherita pizza, walleye tacos, salads, chicken risotto, and more.
Herbie's on the Park
317 Washington St., St. Paul
Inspired by hockey icon Herb Brooks, this restaurant features upscale tavern fare and handcrafted classic cocktails. The menu offers smoked chicken wings, sweet corn elote fries, steak frites, burgers, and more.
The St. Paul Grill
350 Market St., St. Paul
This East Coast-style grill serves steaks and chops, fish and seafood, hot sides, and more in an "energetic atmosphere."
Patrick McGovern's Pub and Restaurant
225 Seventh St. W., St. Paul
With an award-winning patio that has a waterfall and fireplace, this pub and restaurant in the heart of the original Seven Corners neighborhood has famous turkey sandwiches and burgers, among other options.
Palace Theater
17 W. Seventh Place, st. Paul
The Loon Cafe
426 St. Peter St., St. Paul
Known for chili, this cafe offers a selection of soups: Pecos River Red, Pinto's Diablo, Chicken Chili ala Ski-dad, and more. It's just around the corner from Palace Theater, as well as the Xcel Energy Center.
Meritage
410 Saint Peter St., St. Paul
Established in 2007, this classically French kitchen features a seasonal menu of seafood, steak frites, sauteed sides, and other favorites.
Sakura Restaurant
350 Saint Peter St., St. Paul
Looking for authentic Japanese food and sushi near the Palace Theater? Check out Sakura for tempura, bento boxes, teishoku, and teriyaki.
Kincaid's Fish, Chop, and Steakhouse
380 Saint Peter St., St. Paul
Serving steaks and fresh seafood since 1986, Kincaid's offers crispy calamari, oven-roasted crab, house-made soups, and fettuccine Alfredo, among other options.
Fitzgerald Theater
10 E. Exchange St., St. Paul
Ruam Mit
475 St. Peter St., St. Paul
A family-owned and -operated restaurant serving Thai and Laotian food, this popular spot is known for Massaman curry, miang kham, and cream-cheese wontons.
Downtowner Woodfire Grill
253 Seventh St. W., St. Paul
With a menu considered American bistro-style, the Downtowner roasts meats, flatbreads, and more on a classic woodfire grill.
Sawatdee
486 N., St. Paul
Sawatdee's menu includes Thai cuisine as well as wine and cocktail specials.
Amsterdam Bar & Hall
6 W. Sixth St., St. Paul
A music venue as well as restaurant, this bar and hall boasts a menu of appetizers and small Dutch sandwiches called broodjes as well as an extensive drink menu.
Target Center
600 N. First Ave., Minneapolis
Kieran's Irish Pub
85 Sixth St. N., Minneapolis
With live music and drinks, here's an option for a hangout spot after hitting up the Target Center, Target Field, or First Avenue.
US Bank Stadium
401 Chicago Ave., Minneapolis
Pog Mahone's Pub & Grill
903 S. Washington Ave., Minneapolis
Enjoy a classic Shamrock Burger, coconut chicken fingers, or a Skol Burger after a game at the stadium, or order drinks to celebrate.
Xcel Energy Center
199 W. Kellogg Blvd., St. Paul
Eagle Street Grille
174 W. Kellogg Blvd., St. Paul
Hungry for deep-fried pickles, cheeseburgers, or chicken fingers after a game or concert? The Eagle Street Grille offers a full menu and extensive drink options.